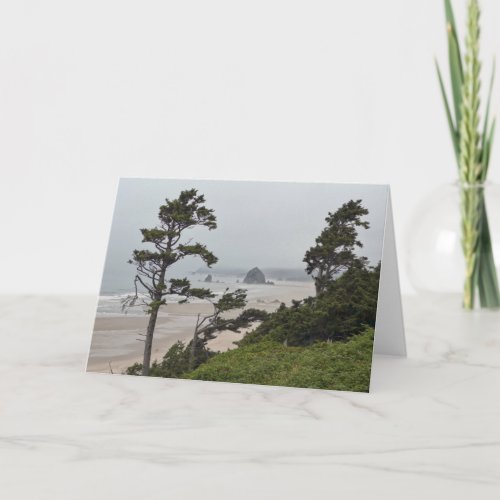 Foggy Morning on Cannon Beach, Oregon Card on Zazzle.
These two photographs of Cannon Beach, Oregon, are available on Zazzle as greeting cards, posters and photo prints and can be transferred to a wide range of other products.
On an August morning, fog shrouds Cannon Beach on the Oregon coast. Windswept cypress trees frame Haystack Rock in the distance. You can see the tiny forms of people and dogs walking on the beach.
Haystack Rock is protected as a marine sanctuary, as part of the Oregon Islands National Wildlife Refuge. Haystack Rock is one of the most recognizable and popular attractions on the Oregon coast. Its intertidal area is one of Oregon's seven Marine Gardens.
The first recorded journey by an American to what is now Cannon Beach was made by William Clark, one of the leaders of the Lewis and Clark Expedition in early 1805. Clark and several of his companions, including Sacagawea, visited the beach on January 10, 1806. They encountered a group of Native Americans from the Tillamook tribe who were boiling blubber of a beached whale for storage. Clark and his party bartered for 300 pounds (140 kg) of blubber and some whale oil before returning to Fort Clatsop. A wooden whale sculpture commemorating the encounter between Clark's group and the Tillamooks is in a small park at the northern end of Hemlock Street
In 1846, a cannon from the US Navy schooner Shark washed ashore just north of Arch Cape, a few miles south of the community. The city was later named for this cannon, which can be seen in the city's museum.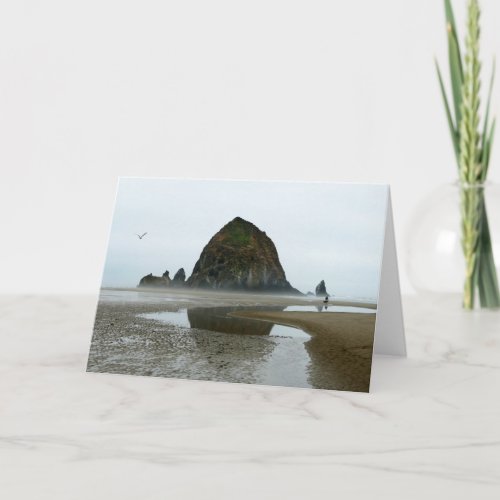 Haystack Rock Reflection on Cannon Beach, Oregon Card